What's the difference between each pole finish?
Chrome – The industry standard finish and a good all-rounder for all levels of skill/experience. High grade steel poles are coated in Chrome and polished to a high finish.
Stainless Steel – A great alternative to Chrome or Brass and very hard wearing. Stainless Steel poles are polished to a mirror finish. Also good for polers with nickel allergies and ideal for commercial environments (studios and gyms) with a lot of polers!
Brass – Great in hotter climates as the grip factor increases with the ambient temperature and the perfect choice for polers with nickel allergies.
Titanium Gold – Chrome poles are taken and electronically coated with the finish for an enhanced grip.
Powder Coat (Black, Pink & White) – Useful for people who struggle to grip standard metal poles. Very high grip factor! Steel poles are powder coated and baked to seal the finish. Available in black, white and hot pink!
Silicone (Black & Pink) – The ultimate easy grip pole! Minimal skin to pole contact needed. Steel poles have a silicone sleeve attached to the surface of the pole. Available in 45mm pole diameter only.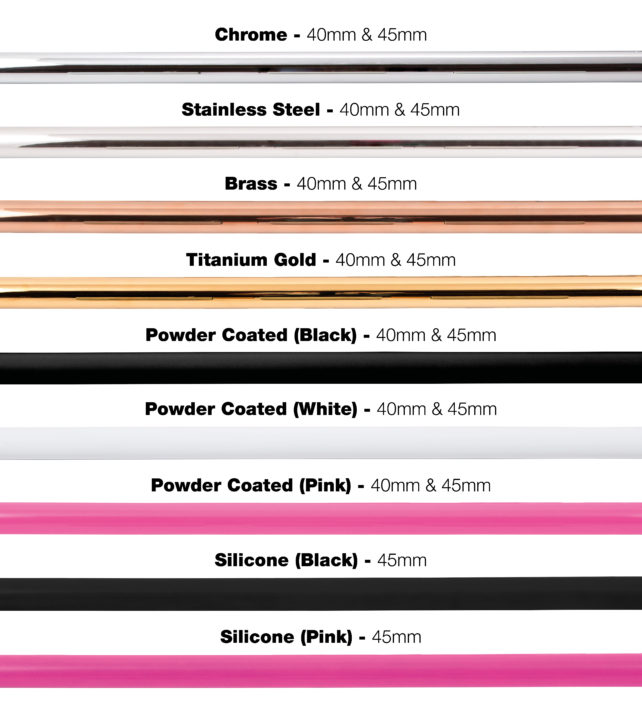 Chrome – 40mm and 45mm – Steel core with Chrome coating applied
Stainless Steel – 40mm and 45mm – Highly polished Stainless Steel pole
Brass – 40mm and 45mm –Brass tube.
Titanium Gold – 40mm and 45mm – Steel core with Chrome coating that is then electronically treated to give the Gold finish with additional grip
Powder Coat (Black, White and Pink) – 40mm and 45mm – Steel core with a powder coat layer baked on
Silicone (Black and Pink) – 45mm – Steel core with a 5mm thick silicone sheath glued to the pole