Pole Profiles
Zoraya Judd – One of the pioneers of the pole fitness industry. Zoraya is an aerial pole performer, instructor, wife, and mother to 3 boys. She is based in Utah and is the founder of Next Level Pole Training – a unique training experience meant to progress you 1-2 pole levels in a very short time period. Zoraya has been traveling, on a regular basis, teaching pole studios around the world for over a decade. Zoraya has participated in many international competitions and has been awarded many titles. She has guest judged and performed at large pole functions and competitions, performed with and for numerous well known actors, musicians, festivals, large corporate private events and has been featured in many magazines, news papers, fox sports, and movies.
Zoraya's goal is to continue to show people the art and fitness side of aerial pole. She absolutely loves everything that has to do with pole. But, for her it is the strength, control and flexibility that she finds so beautiful and intriguing.
Don't miss your opportunity to learn from this legend. Her strength and technique combined with her many years of experience is unmatched and is sure to take your pole to the next level.
Pole Resume:
First competition, "Miss Pole Fetish Utah 2009", She placed 1st in the advanced division.
One of the 12 girls chosen to compete in "USPDF West Coast Regional 2009 Competition", where she received her "Pro Status"
Sexy in SLC, Oct 2009
Competed in "Vertical Pole Challenge", where she secured a spot in the Finale.
Became a clothing ambassador for Bad Kitty Pole Fit Wear.
Competed in "USPDF National Championship 2010" in the Pro Division.
Performed with Felix Cane at corporate event. 2010
UPA Pole Artist of the month, May 2010
Toured southern California doing pole workshops at multiple pole studios.
Guest performer at the International Pole Convention 2010
Inspiration of the month for Mika Yoga wear July 2010.
Performed as an opening and closing act for rapper Common in Las Vegas NV 2010
Performed as an opening and closing act for singer Mia in Las Vegas NV 2010
Guest performer at EMW west coast competition 2010
Zoraya wanted to give back, so she got involved with "All Childrens Charity". A charity that seeks to empower, educate and nurture talent in children all over the world.
Competed in the "World Pole Dance and Fitness championship 2010", where she made it to the final round and became a part of the top 13 in world. Held in Zurich, Switzerland.
Toured all over the UK and Europe doing pole workshops at multiple pole studios.
Competed in the "American Pole Fitness Championships 2010" in October, where she was awarded 2 awards. 1st runner up and Pole Athlete Of The Year (out of the males and females).
Was featured in Pole Spin Magazine August-November 2010 issue
Toured East Coast doing pole workshops at multiple pole studios.
2010 won "Pole Idol"
Zoraya is currently performing with Zen Arts (zenartsla.com) and Revel Society, a premier event entertainment and production company.
Competed in "International Pole Championships 2010", December in Tokyo, Japan. Where she was awarded International Pole Art Champion 2010.
Was featured in Pole Spin Magazine December-March 2011 issue
Photoshoot for Affliction clothing and for Throwdown in January 2011
Performed for the 2011 Maxim Magazine party, January 2011
Performed for the 2011 XBIZ Awards in February 2011
Competed in "Aerial Pole International Championships 2011", March in Switzerland. Where she was awarded Best Trick award and strongest pole dancer by Dominic Lacasse himself (The Flag Man).
Toured all over the UK and Europe doing pole workshops at multiple pole studios. March 2011
Has a 5 page spread in Pole Spin Magazine April-July 2011 issue and is considered an inspirational role model world-wide
Performed and toured in Mexico city May 2011 teaching pole workshops
Was featured live on Fox Sports in Mexico City during Cinco de Mayo 2011 to represent pole as an art and sport
Toured Northern California and Tahoe May 2011 teaching pole workshops at multiple studios.
Performed two nights in a row on the main stage at Lightning In a Bottle, May 2011, Los Angeles CA
She has also been featured and interviewed by numerous news reporters, magazine articles, and tv personnel around the world.
Performed 3 nights in a row on the main stages of "Electric Daisy Carnival" in Las Vegas, NV with Zen Arts.
Performed at XPOLE showcase of the top 12 pole dancers in the world. "Pole Reflections" Sydney Australia, July 2011
Toured all parts of Australia teaching Pole Fitness workshops. July/August 2011
Competed at World Pole Dance and Fitness Championships 2011, Hungry Budapest October 2011 where she was awarded "Best Entertainer" in the finals.
Toured all over UK and Europe teaching pole fitness workshops, October 2011
Performed at Gravity First 2nd edition 2011 in Mexico City for XPOLE Mexico. October 2011
Toured all over the Mexico teaching pole workshops at multiple pole studios. October 2011
Photoshoot with Rebok for the cover of a fitness magazine in South America. January 2012 issue.
Cover girl of Vertical Fitness Magazine in USA, February/April 2012
International Pole Championships 2012, Hong Kong. Awarded First Runner Up Pole Art Champion and First Runner Up Pole Idol 2012
2012 featured in Rolling Stones magazine
International Judge for 2013 World Pole Dance and Fitness Championships in Switzerland
Judge and Guest Performer for 2014 Miss Pole Dance Argentina
Judge and Guest Performer for 2014 Miss Pole Dance Mexico
Guest performer at PWN Awards 2014
2015 through today: Main judge for most of the largest international and world pole competitions
2015 through today: Traveling the globe teaching at many pole studios
2015 through today: Teaching MANY international guests at her personal training facility in USA
(Next Level Training)
Zoraya is sponsored by:
X-POLE
Dry Hands
Mighty Grip
Rubberbanditz
Mika Yoga Wear
Mika Yoga Swim
Zoraya continues to tour the entire globe teaching the art of pole to at pole studios everywhere.
Pole Profiles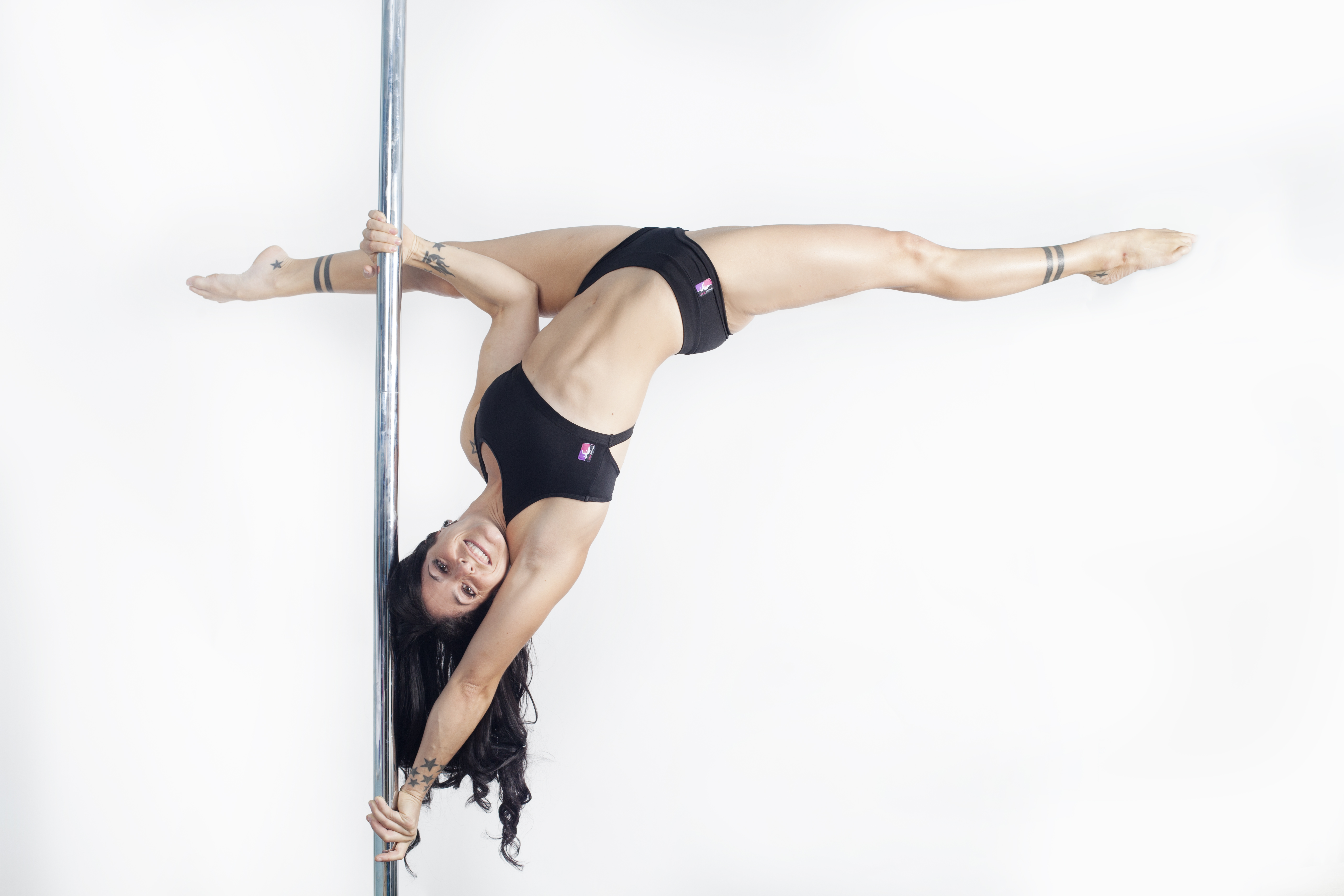 Samantha Star combines her knowledge of pole, gymnastics, yoga, and hand balance to be a dynamic performer and informative instructor. She believes perfecting the fundamentals is the best way to gain strength and coordination to achieve a higher level of fitness and grace. By focusing on technique and core, she helps students attain a solid platform with which they can achieve confidence, strength and power. Samantha teaches at Body & Pole in NYC and also travels the world to perform, compete, judge, and teach workshops.
TIER: PROFESSIONAL
Instructor at​ Body & Pole
Competitions
1st Place PSO Atlantic APC 2019
3rd Place PSO Nationals 2019
6th Place – POSA Worlds 2018
2nd Place – USPSF (Qualifier for POSA Worlds) 2018
2nd Place – Pole -a – Palooza 2018
1st Place – Pole -a- Palooza 2017
2nd Place – Pole Olympia 2016
3rd Place – USPSF (Qualifier for IPSAF Worlds) 2016
3rd Place – USPSF (Qualifier for IPSF Worlds) 2015
2nd Place – Australian Pole Fitness Championship 2015
1st Place – IDSA World Pole Dance Championship of Sports Standard (China) 2014 2nd Place – Pole Championship Series 2014
1st Place – Women's Division – Pole Classic at Pole Expo 2013
4th Place – Nationals Pro/ Level 4 Championship – Pole Sport Organization 2013 2nd Place – Atlantic Level 4 Championship – Pole Sport Organization 2013
3rd Place – National Elite Division – Midwest Pole Dance Competition 2012
APFA Pole Athlete of the year 2012
Continuing Education
Xpert
Yoga Meridian Therapy – Science of Self 2019
FRC Certification
elevatED L1, L2 Pole – elevatED L1 Flex Power Monkey Fitness – Ring Thing
KT Coates
AFAA Group Fitness
200hr Yoga Teacher Training: Back Bay Yoga
Performances
Secret Circus 2019
Let them Eat Cake – 2018
USPSF Regionals 2018
Filthy Pony 2018
Halloween show at Body & Pole 2018
Showtime – an immersive circus at Body & Pole 2018 The Wall Art Openings at Body & Pole 2017, 2018 Mountain Pole Camp 2017, 2018
Pole Convention – 2015, 2016, 2017, 2018, 2019 Schtick a Pole In It – NYC 2013, 2014, 2015, 2018 SoSi – An AERA production NYC -2016
Pole Show La – 2014, 2015, 2016
Pole Expo – Las Vegas 2015
Pole Revolution – 2015
Aerial AllStars Australia 2015
Arnold Australia 2015
Gravity First – Fifth Edition 2014
Pole Expo – Pole Star Showcase 2014
Arnold Classic – Arnold Sports Festival 2014
Live Dancing Girls – Nashville, Tn 2014
La Gente – An AERA production – Nyc 2013
Pole Profiles
The privilege of being granted an X-POLE athlete status is one that is relished by many within the pole & aerial industry. Already, with a number of world renowned stars & champions enrolled on the development program, we are delighted to launch this program & welcome you to the X-POLE family. We strongly advise you to review the contents of the Athlete Program & submit your application for the relevant category.
The core goals of the Development Team are to:
• Nurture and stimulate the career development of new talent
• Track and highlight upcoming athletes for their skills, acumen and delivery
• Advise and mentor athletes to help them achieve career satisfaction
• Deliver the finest set of athletes that this world has seen
Athlete Application
For anyone wishing to apply to become an X-POLE Athlete
Pole Profiles
Greta Pontarelli is 68 year old pole artist. She has won 8 World Pole Art and Pole Sport Masters Championships, all while in her sixties, despite being challenged with severe Hip Osteoarthritis. Her latest win was this February in Florence where she captured championship just months after a dual hip replacement.
Greta was born with a slight internal rotation of the hips, which, along with years of gymnastics, before they required spring floors, destroyed her cartilage. She fought surgery for years and sought alternative treatments which bought her time, but ultimately she had to move forward with total replacements for both hips.
As Greta prepared for her surgeries, she started working on her piece "Finding the Blessings in the Ashes." It was based on the archetype of transformation that occurs in a forest fire which is needed for many sprouts to germinate and grow. This archetype relates to our lives and empowers us to use challenges as a thrusting block for growth. When Greta finished training on the pole, she frequently went into the forest to connect with the spirit of the trees so she could authentically tell its story. She watched the flames of the fire and spent time attuning herself to it. When Greta looked at the video of the fire choreography, she saw the fire but wasn't feeling hot so back to the fire she went to fully capture its essence. She continued to visualize the choreography while in bed recovering from multiple surgeries. It was when she pushed through moments of pain that the transforming effect of fire came to life. Greta learned that challenges can be an unexpected gift.
So often we stop short of the finish line or give up when success is just around the corner. Many times we don't begin because we believe what we want to achieve is not even possible. It is still a bit surreal to Greta that she has won 8 World Championships, because she almost gave up after her first class. She was somewhat discouraged because she couldn't begin to get up the pole. It was after competing in America Ninja Warrior and learning she was the oldest person to ever attempt the course that her mission was set in motion. Greta thought "where is everyone else?" and was motivated to push through her self-imposed boundaries to give visibility to her message. Soon the stage became her platform and inspiring the lives of others became far more important than the medals.
Pole Profiles
Natasha Wang
Natasha Wang is considered one of the most influential pole artists working today. Based in Los Angeles, Calif. and born-and-bred in Austin, TX, Natasha is a true "pole citizen of the world" and spends a large part of the year traveling around the globe as an in-demand teacher, performer and competition judge.
In 2015, Natasha was named the IPDFA "Instructor of the Year", and in 2014, she won "Female Performance Artist of the Year" and "Inspirational Artist of the Year" at the PWN (Pole World News) Awards. As a competitive pole athlete, she has taken home the titles of IPC Ultimate Champion 2013, Pole Art 2012 Runner-Up, US Pole Dance Champion 2011, USPDF West Coast Champion 2010, California Pole Dance Champion 2010, and East Meets West Miss Pole-AM 2010.
As a performer and pole personality, she has appeared on "The View" on ABC, "Good Day L.A." on FOX, "Amazing Dance" on Hunan TV, and "Day Day Up" on Hunan TV, China's #1 TV show with over 300 million viewers. Natasha has also performed across Mainland China as a solo artist, including at China Rouge at the Galaxy Macau. In June 2011, Natasha performed with the Doug Aitken art-theater project "Black Mirror" starring actress Chloe Sevigny, which premiered in Athens, Greece.
Known throughout the world for her emotive style, grace and creative storytelling, Natasha is a late fitness bloomer and took her first pole class at the age of 29 with no prior dance, gymnastics or fitness training. Natasha instructs at BeSpun in Los Angeles, CA, was a principal dancer with Kelly Yvonne's "Girl Next Door Show" from 2010 – 2015, and made her debut in its sister production "Seven" in 2015. Natasha teaches at BeSpun in Los Angeles, CA and is a featured instructor with OpenDance Academy. She is certified by elevatED, Floor Flow, Pole Moves and X-Pert. She is also an X-Pole Athlete and a Brand Ambassador for MilaKrasna, 21 grams Activewear and Denver Circus Supply. www.natashawang.com
A graduate of the University of Texas with a BS in Advertising and a BA in French, Natasha left a nine-year career in public relations in 2011 to pursue her pole dreams, and has never looked back. She is also a published poet and speaks fluent Chinese and French.
TIER: PROFESSIONAL
Pole Profiles
Tara Meyer is an International Pole Champion.
She recently won, 1st Place, at the 2018 OG Ms. Pole Fitness Olympia Championship & awarded the People's Choice Award at Mr. Olympia.
She has studied dance for 23 years but first competed as a figure skater.
Tara found dance at age nine and by 16, her passion became her professional career; leading to many awards and scholarships.
She trained at several elite ballet & dance schools, around the world, and upon graduation, was named Canadian Female Dancer of the Year.
From her days dancing, on pointe, as a prima ballerina, she is now an X-POLE Athlete gracing the Pole World with her fluidity and killer feet!  It is this finesse, which has seen her take home many Canadian, US and International titles, over the last few years. 
While Tara continues to travel the world teaching, judging, performing and competing; she is also the Canadian XPERT Pole Fitness master trainer, clothing ambassador for Artista Apparel and the proud owner of VogueFit, an elite Aerial studio located in Winnipeg, Manitoba.
AWARDS
2018 OG Ms. Pole Fitness Olympia, Champion & People's Choice Award 
2017 PWN, Female Performance Artist of the Year -"Best Female Performer"
2017 PWN, Most Photogenic – "Picture Perfect"
2016 PCS, Champion
2015 IPSF, Pole Sports Industry Award: Athlete Runner Up of the year
2015 PCS, 1st Runner up
2015 U.S Aerial Championships, 1st Runner up
2014 CPFA, Champion & Best Tricks Award
2014 NAPDC, Champion & People's Choice Award
2014 Paragon International Amateur Pole Dance Championships, Champion
2013 CPFA, 1st Runner up Pro
2012 CPFA, 1st Place Semi Pro
2012 Miss Pole Winnipeg, Champion & People's Choice Award
2011 Miss Pole Dance Canada, 1st Place Amateur & People's Choice Award
Selected Guest Feature Performances:
Cast of Oscillations Dance (current)
2018 Cast of Jenyne Butterfly's RISE, Vegas 
2018 Legion Sports Fest Fitness, Los Angeles   
2017 Cast of Jenyne Butterfly's Virago Society
2015 Cast of Alethea Austin's Ink N Iron
2014 Girl Next Door Soiree, Los Angeles
2015 Vegas Pole Expo
2014 Vegas Pole Expo
2013 Vegas Pole Expo
Judged: 
2018 Pole Classic, Pole Expo Las Vegas 
2018 PCS Pole Championships Series 
2018 Pole Theatre Canada 
2018 Colorado Pole Championships 
2017 PCS Pole Championship Series 
2017 PCS Pole Open Women's Novice
2017 North American Pole Dance Championships
​2016 Pole Theatre UK
2016 North American Pole Dance Championships
2016 CPFA Alberta Championships
2016 Erotic World Pole Dance Championships
Pole Profiles
Karley Cottrell is an aerialist and dancer in Las Vegas, Nevada. She has been dancing since she was 2 years old and has been performing at various shows in events in Las Vegas for the last 6 years. She started pole dancing almost 11 years ago and quickly added aerial arts. She now specializes in: pole, aerial pole, aerial hoop, aerial silks, cube, aerial hammock, doubles aerial hoop, and aerial looped straps. She currently travels to perform, teach workshops, and teach for Xpole and XPert. Karley is so excited to help bring pole and aerial fitness into the mainstream through the instruction of both XPole and Xpert.
-Xpole / XPert Master Aerial Trainer
-Certified Instructor Trainer in
Pole 1/2
Pole 3/4
Aerial Hoop
Aerial Silks
Aerial Hammock
Children's Pole and Aerial Fitness
-ACE Certified Personal Trainer
-NASM Certified Personal Trainer
-NCSF Certified Personal Trainer
Career and Performance Highlights:
-Dancer and Aerialist in "Alice: A steampunk Concert Fantasy" in Las Vegas
-Dancer and Showgirl in "Jesus Christ Superstar" at Tropicana Las Vegas
-Aerialist and feature guest with "Craig Robinson and the Nasty Delicious" in Las Vegas.
-Pole Dancer with "Green Day" at the Hard Rock in Las Vegas
-Dancer, Aerialist, and Producer in "Voyeur" in Las Vegas
-Aerialist and Feature guest at "Vancouver Tattoo and Culture Show" in Vancouver, Canada