Author:
Kash Sunthramoorthy
Pole Profiles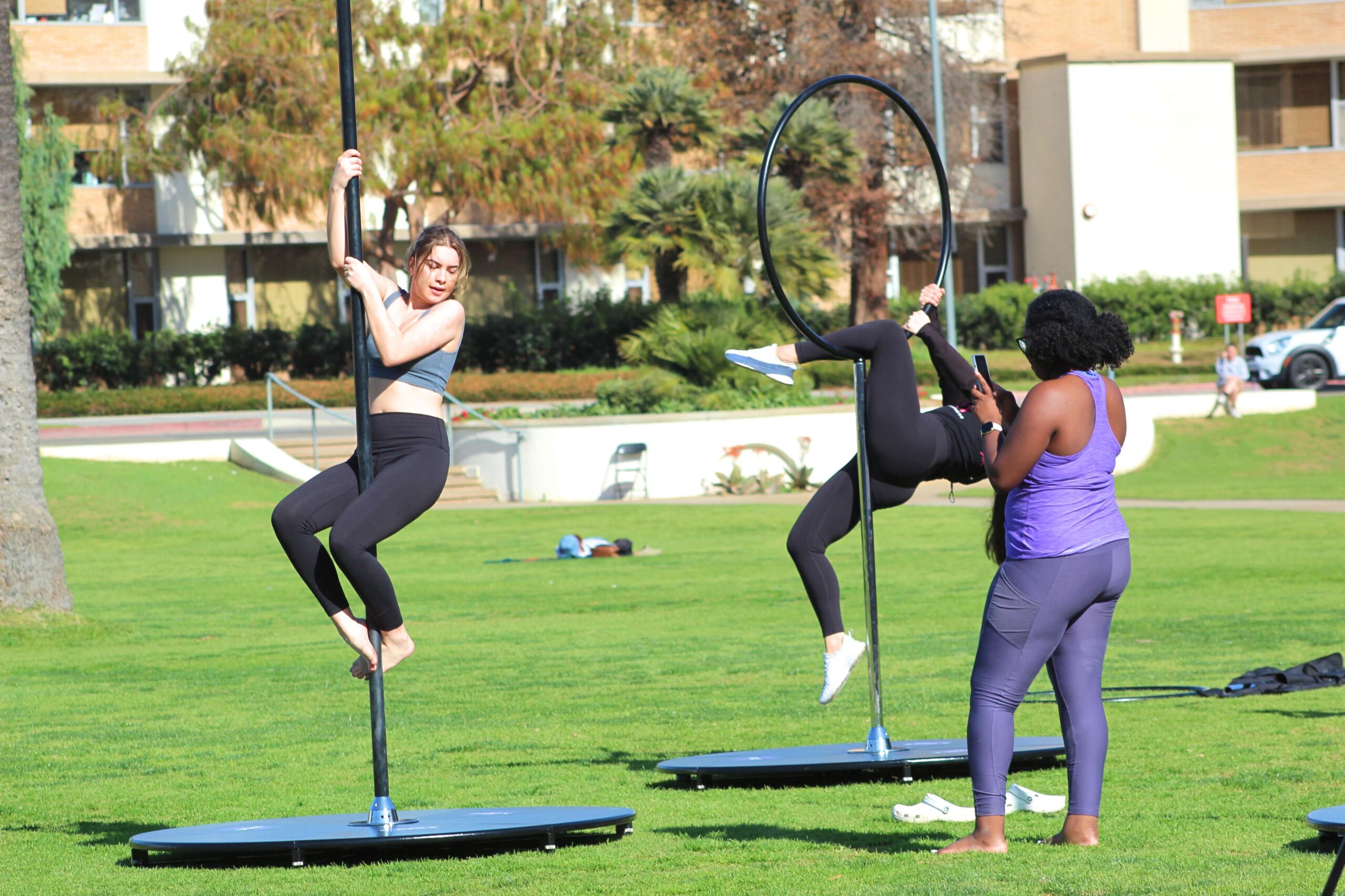 Pole dancing is not only a great way to tone your muscles, but it also has many other benefits that you might not have thought of. This article will explore the benefits of pole dancing and why you should consider purchasing a pole dance pole for your home.
Full-Body Workout
One of the most significant benefits of pole dancing is that it is a full-body workout. Pole dancing requires using almost all your muscles, including your arms, shoulders, back, core, and legs. It is a great way to tone your body and build lean muscle. Unlike traditional gym workouts that can get boring and repetitive after a while, pole dancing is a creative way to increase your heart rate and burn calories.
Improved Flexibility
Pole dancing also helps to improve your flexibility. Many pole dancing moves require stretching your body and holding positions that you might not typically do daily. Over time, this can help to increase your flexibility and range of motion. Improved flexibility can also help to reduce the risk of injury, especially if you participate in other physical activities.
Get fit while having fun
One of the most appealing aspects of pole dancing is that it doesn't feel like exercise. Pole dancing is a dynamic and engaging, challenging and entertaining activity. Pole dancing requires strength, flexibility, and endurance, so you can get a full-body workout without realizing it. As you progress in your pole dancing journey, you will see improvements in your overall fitness and strength without feeling like you are forcing yourself to work out.
Boost your confidence
Another great benefit of pole dancing is that it can help boost your confidence and self-esteem. Pole dancing requires vulnerability and trust in yourself, which can be empowering and liberating. As you learn new moves and progress in your pole dancing abilities, you will feel a sense of accomplishment and pride that can translate into other areas of your life.
Stress relief
Exercise is a natural stress reliever, and pole dancing is no exception. It can help to reduce stress levels, boost your mood, and improve overall mental health. Pole dancing allows you to focus on the present moment, which can help to calm the mind and reduce anxiety.
Community
Pole dancing classes provide a supportive and encouraging community of like-minded individuals. You'll find that the community is very welcoming and supportive, which can help to make your pole dancing experience even more enjoyable. It's a great way to meet new people and make friends while achieving your fitness goals.
To sum it all up, pole dancing is an excellent way to stay fit, healthy, and empowered. It offers a full-body workout, improves flexibility, boosts confidence, promotes cardiovascular health, relieves stress, and provides a supportive community. Whether you're looking for a new workout routine or want to try something new, pole dancing is a great activity to consider.
Pole Profiles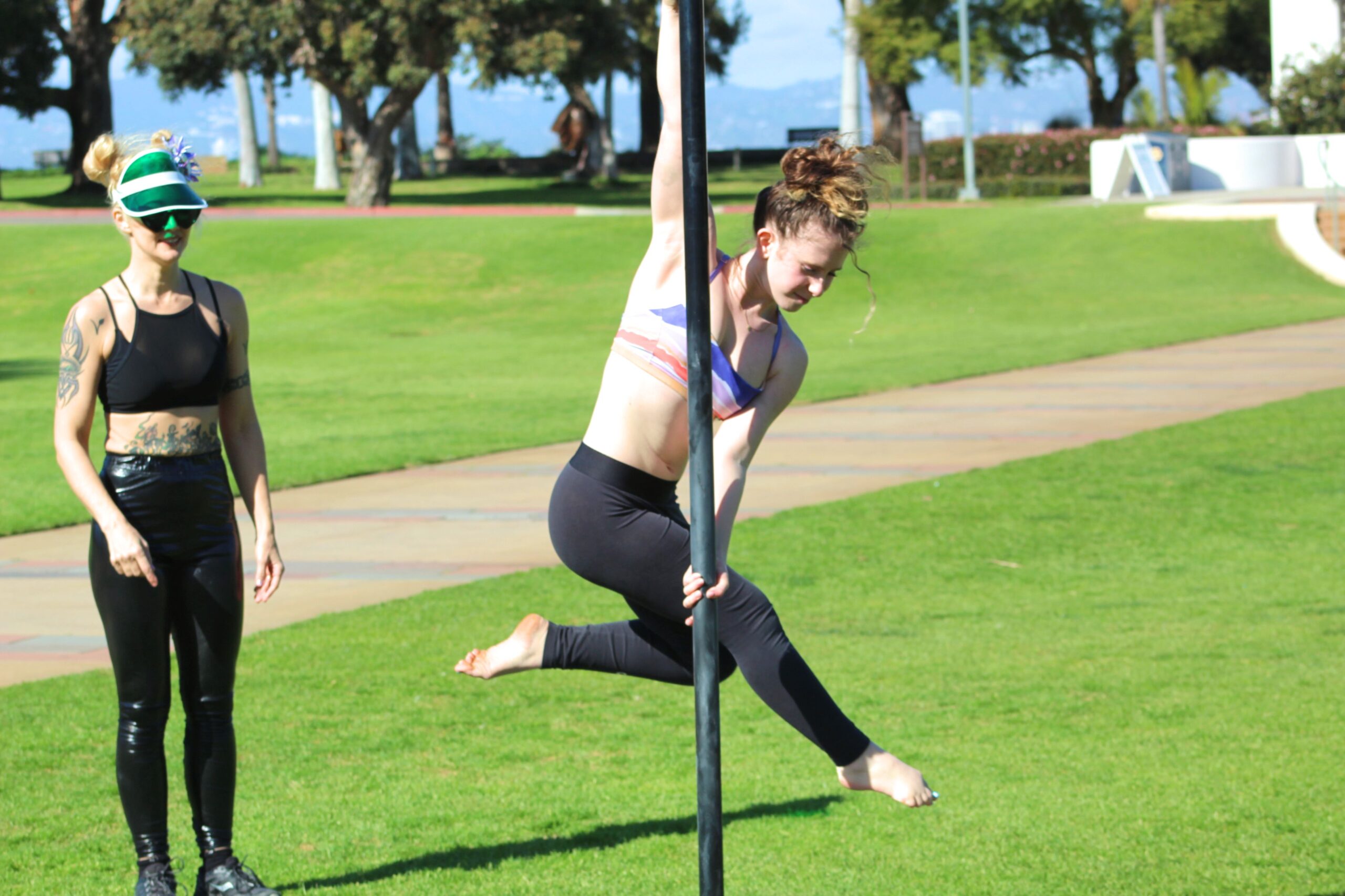 Pole dancing is a fantastic exercise and creative outlet, providing numerous physical and mental benefits. However, like any exercise or endeavor, it is possible to experience burnout if you don't take care of your body and mind.
Here are five ways to avoid pole dance burnout and keep your practice fresh and enjoyable.
Take Rest Days

Rest is crucial for any type of physical activity, including pole dancing. Overworking your body can lead to fatigue, injuries, and burnout—schedule rest days into your pole dance practice to give your body and mind a chance to recover. You can use this time to focus on stretching, foam rolling, or any other form of self-care that helps you feel refreshed and rejuvenated.
Vary Your Routine

Repeating the same pole dance routine can quickly become monotonous and lead to burnout. To keep things interesting, try switching up your repertoire by adding new moves you've learned in class or choreographing to a different musical genre from your usual selection. You can also experiment with different styles of pole dance to keep your practice fresh and get new inspiration.
Set Realistic Goals

Setting goals is a great way to stay motivated and focused. Still, it's essential to make sure they are realistic and achievable. Suppose you set goals that are too challenging or unrealistic. In that case, you may become discouraged and lose interest in pole dancing altogether. Start with small goals and work your way up as you improve.
Find a Supportive Community

Joining a pole dance community can be a great way to stay motivated and avoid burnout. You can find a community through social media groups, local pole dance studios, or online forums. Surrounding yourself with like-minded individuals who share your passion for pole dancing can help keep you inspired and motivated.
Take Time for Self-Care

Pole dancing can be a demanding and physically challenging activity, so taking time for self-care is essential. This can include anything from taking a relaxing bath to getting a massage. Whatever helps you feel refreshed and rejuvenated, prioritize self-care as part of your pole dance routine.
Pole dance burnout can be avoided by caring for your body and mind, varying your routine, setting realistic goals, finding a supportive community, and prioritizing self-care. These tips can keep your pole dance practice fresh and enjoyable for years.
Pole Profiles
Original Sin Show is excited to be producing their second annual pole competition at Apple Jelly Studios in St. Pete Florida. Welcoming sinful pole dancers from all over the world, the Original Sin Show's theme for 2023 is Dante's Inferno. In Dante's Inferno, everything is a perversion of something in Heaven or on Earth. Journey with us through the nine circles of Hell: limbo, lust, gluttony, greed, anger, heresy, violence, fraud, and treachery. This show is unapologetically dark, tenfold more wicked, and brimming with win.
What makes Original Sin Show | Dante's Inferno so different? We have a completely immersive environment, cash and other prizes for winners of each category, a 360 degree stage, a gluttonous amount of sponsors and vendors, a divine emcee, and we let our performers get as sinful on-stage as they imagine.
Looking to burn with us in the Inferno? Competitor applications open on January 7th through our website and tickets go on-sale in February. Keep a watchful eye on our IG @originalsinshow and Website www.originalsinshow.com for more information.
See you in the depths of Hell, Sinners. 🔥
Pole Profiles
Zoraya Judd – One of the pioneers of the pole fitness industry. Zoraya is an aerial pole performer, instructor, wife, and mother to 3 boys. She is based in Utah and is the founder of Next Level Pole Training – a unique training experience meant to progress you 1-2 pole levels in a very short time period. Zoraya has been traveling, on a regular basis, teaching pole studios around the world for over a decade. Zoraya has participated in many international competitions and has been awarded many titles. She has guest judged and performed at large pole functions and competitions, performed with and for numerous well known actors, musicians, festivals, large corporate private events and has been featured in many magazines, news papers, fox sports, and movies.
Zoraya's goal is to continue to show people the art and fitness side of aerial pole. She absolutely loves everything that has to do with pole. But, for her it is the strength, control and flexibility that she finds so beautiful and intriguing.
Don't miss your opportunity to learn from this legend. Her strength and technique combined with her many years of experience is unmatched and is sure to take your pole to the next level.
Pole Resume:
First competition, "Miss Pole Fetish Utah 2009", She placed 1st in the advanced division.
One of the 12 girls chosen to compete in "USPDF West Coast Regional 2009 Competition", where she received her "Pro Status"
Sexy in SLC, Oct 2009
Competed in "Vertical Pole Challenge", where she secured a spot in the Finale.
Became a clothing ambassador for Bad Kitty Pole Fit Wear.
Competed in "USPDF National Championship 2010" in the Pro Division.
Performed with Felix Cane at corporate event. 2010
UPA Pole Artist of the month, May 2010
Toured southern California doing pole workshops at multiple pole studios.
Guest performer at the International Pole Convention 2010
Inspiration of the month for Mika Yoga wear July 2010.
Performed as an opening and closing act for rapper Common in Las Vegas NV 2010
Performed as an opening and closing act for singer Mia in Las Vegas NV 2010
Guest performer at EMW west coast competition 2010
Zoraya wanted to give back, so she got involved with "All Childrens Charity". A charity that seeks to empower, educate and nurture talent in children all over the world.
Competed in the "World Pole Dance and Fitness championship 2010", where she made it to the final round and became a part of the top 13 in world. Held in Zurich, Switzerland.
Toured all over the UK and Europe doing pole workshops at multiple pole studios.
Competed in the "American Pole Fitness Championships 2010" in October, where she was awarded 2 awards. 1st runner up and Pole Athlete Of The Year (out of the males and females).
Was featured in Pole Spin Magazine August-November 2010 issue
Toured East Coast doing pole workshops at multiple pole studios.
2010 won "Pole Idol"
Zoraya is currently performing with Zen Arts (zenartsla.com) and Revel Society, a premier event entertainment and production company.
Competed in "International Pole Championships 2010", December in Tokyo, Japan. Where she was awarded International Pole Art Champion 2010.
Was featured in Pole Spin Magazine December-March 2011 issue
Photoshoot for Affliction clothing and for Throwdown in January 2011
Performed for the 2011 Maxim Magazine party, January 2011
Performed for the 2011 XBIZ Awards in February 2011
Competed in "Aerial Pole International Championships 2011", March in Switzerland. Where she was awarded Best Trick award and strongest pole dancer by Dominic Lacasse himself (The Flag Man).
Toured all over the UK and Europe doing pole workshops at multiple pole studios. March 2011
Has a 5 page spread in Pole Spin Magazine April-July 2011 issue and is considered an inspirational role model world-wide
Performed and toured in Mexico city May 2011 teaching pole workshops
Was featured live on Fox Sports in Mexico City during Cinco de Mayo 2011 to represent pole as an art and sport
Toured Northern California and Tahoe May 2011 teaching pole workshops at multiple studios.
Performed two nights in a row on the main stage at Lightning In a Bottle, May 2011, Los Angeles CA
She has also been featured and interviewed by numerous news reporters, magazine articles, and tv personnel around the world.
Performed 3 nights in a row on the main stages of "Electric Daisy Carnival" in Las Vegas, NV with Zen Arts.
Performed at XPOLE showcase of the top 12 pole dancers in the world. "Pole Reflections" Sydney Australia, July 2011
Toured all parts of Australia teaching Pole Fitness workshops. July/August 2011
Competed at World Pole Dance and Fitness Championships 2011, Hungry Budapest October 2011 where she was awarded "Best Entertainer" in the finals.
Toured all over UK and Europe teaching pole fitness workshops, October 2011
Performed at Gravity First 2nd edition 2011 in Mexico City for XPOLE Mexico. October 2011
Toured all over the Mexico teaching pole workshops at multiple pole studios. October 2011
Photoshoot with Rebok for the cover of a fitness magazine in South America. January 2012 issue.
Cover girl of Vertical Fitness Magazine in USA, February/April 2012
International Pole Championships 2012, Hong Kong. Awarded First Runner Up Pole Art Champion and First Runner Up Pole Idol 2012
2012 featured in Rolling Stones magazine
International Judge for 2013 World Pole Dance and Fitness Championships in Switzerland
Judge and Guest Performer for 2014 Miss Pole Dance Argentina
Judge and Guest Performer for 2014 Miss Pole Dance Mexico
Guest performer at PWN Awards 2014
2015 through today: Main judge for most of the largest international and world pole competitions
2015 through today: Traveling the globe teaching at many pole studios
2015 through today: Teaching MANY international guests at her personal training facility in USA
(Next Level Training)
Zoraya is sponsored by:
X-POLE
Dry Hands
Mighty Grip
Rubberbanditz
Mika Yoga Wear
Mika Yoga Swim
Zoraya continues to tour the entire globe teaching the art of pole to at pole studios everywhere.
Pole Profiles
This year, X-POLE sponsored the 2nd Annual Halifax Theatrix Pole Competition hosted by Studio In Essence in Halifax, Nova Scotia.inesS™ put on a fantastic sold-out show that highlighted the talent of pole artists throughout Atlantic Canada in 5 categories: Pole Amateur, Pole Doubles, Pole Comedy, Pole Art (A) and (B).
The floor-to-ceiling brass competition poles gleamed like gold on the beautifully lit stage, framed by the black curtain backdrop and the warm wood floors. The Pole Amateur category was won by Christine Ausman, with her emotional performance about love and loss that tugged the heartstrings.
The winning duo for Pole Doubles was Faith Flemming and Melissa Rutherford, who created a fun and heartwarming performance about friendship and inspiration.
The Pole Comedy category was swept away by Candice J Prior, who made the audience laugh out loud as she battled the elements to be rescued from a deserted island.
The winner for Pole Art A was Jasmine Mah, who lit up the stage as Pele, the goddess of Fire in an explosive performance.
Finally, the 2019 Pole Art B winner was NaRae Lee, who astounded the audience with her powerful performance that gained her an entry into Spinning with the Stars, an annual charity event that raises money for the Mental Health Foundation of Nova Scotia.
Studio In Essence Owner/Director Christy Sanford, "We are proud to foster such a creative, supportive, and driven community, and we greatly appreciate the role our sponsors play in helping this community continue to grow and flourish. We hope to make next year's competition even more vibrant and successful!"
We can't wait to see what next year holds for everyone who competed in the Halifax Theatrix Pole Competition. Thank you to everyone for making this such a success.
For more info, please check out:
Pole Profiles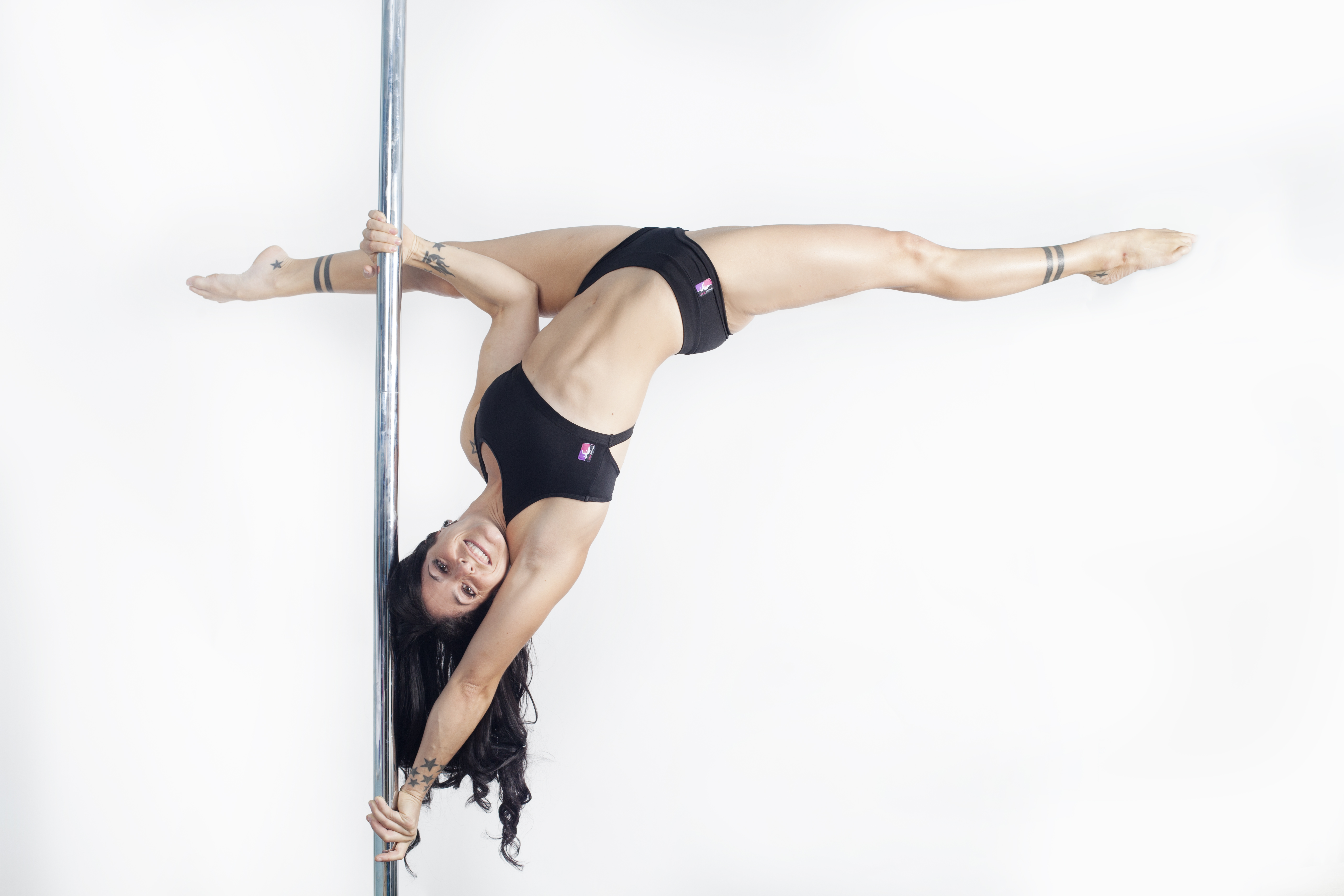 Samantha Star combines her knowledge of pole, gymnastics, yoga, and hand balance to be a dynamic performer and informative instructor. She believes perfecting the fundamentals is the best way to gain strength and coordination to achieve a higher level of fitness and grace. By focusing on technique and core, she helps students attain a solid platform with which they can achieve confidence, strength and power. Samantha teaches at Body & Pole in NYC and also travels the world to perform, compete, judge, and teach workshops.
TIER: PROFESSIONAL
Instructor at​ Body & Pole
Competitions
1st Place PSO Atlantic APC 2019
3rd Place PSO Nationals 2019
6th Place – POSA Worlds 2018
2nd Place – USPSF (Qualifier for POSA Worlds) 2018
2nd Place – Pole -a – Palooza 2018
1st Place – Pole -a- Palooza 2017
2nd Place – Pole Olympia 2016
3rd Place – USPSF (Qualifier for IPSAF Worlds) 2016
3rd Place – USPSF (Qualifier for IPSF Worlds) 2015
2nd Place – Australian Pole Fitness Championship 2015
1st Place – IDSA World Pole Dance Championship of Sports Standard (China) 2014 2nd Place – Pole Championship Series 2014
1st Place – Women's Division – Pole Classic at Pole Expo 2013
4th Place – Nationals Pro/ Level 4 Championship – Pole Sport Organization 2013 2nd Place – Atlantic Level 4 Championship – Pole Sport Organization 2013
3rd Place – National Elite Division – Midwest Pole Dance Competition 2012
APFA Pole Athlete of the year 2012
Continuing Education
Xpert
Yoga Meridian Therapy – Science of Self 2019
FRC Certification
elevatED L1, L2 Pole – elevatED L1 Flex Power Monkey Fitness – Ring Thing
KT Coates
AFAA Group Fitness
200hr Yoga Teacher Training: Back Bay Yoga
Performances
Secret Circus 2019
Let them Eat Cake – 2018
USPSF Regionals 2018
Filthy Pony 2018
Halloween show at Body & Pole 2018
Showtime – an immersive circus at Body & Pole 2018 The Wall Art Openings at Body & Pole 2017, 2018 Mountain Pole Camp 2017, 2018
Pole Convention – 2015, 2016, 2017, 2018, 2019 Schtick a Pole In It – NYC 2013, 2014, 2015, 2018 SoSi – An AERA production NYC -2016
Pole Show La – 2014, 2015, 2016
Pole Expo – Las Vegas 2015
Pole Revolution – 2015
Aerial AllStars Australia 2015
Arnold Australia 2015
Gravity First – Fifth Edition 2014
Pole Expo – Pole Star Showcase 2014
Arnold Classic – Arnold Sports Festival 2014
Live Dancing Girls – Nashville, Tn 2014
La Gente – An AERA production – Nyc 2013
Pole Profiles
The privilege of being granted an X-POLE athlete status is one that is relished by many within the pole & aerial industry. Already, with a number of world renowned stars & champions enrolled on the development program, we are delighted to launch this program & welcome you to the X-POLE family. We strongly advise you to review the contents of the Athlete Program & submit your application for the relevant category.
The core goals of the Development Team are to:
• Nurture and stimulate the career development of new talent
• Track and highlight upcoming athletes for their skills, acumen and delivery
• Advise and mentor athletes to help them achieve career satisfaction
• Deliver the finest set of athletes that this world has seen
Athlete Application
For anyone wishing to apply to become an X-POLE Athlete
Pole Profiles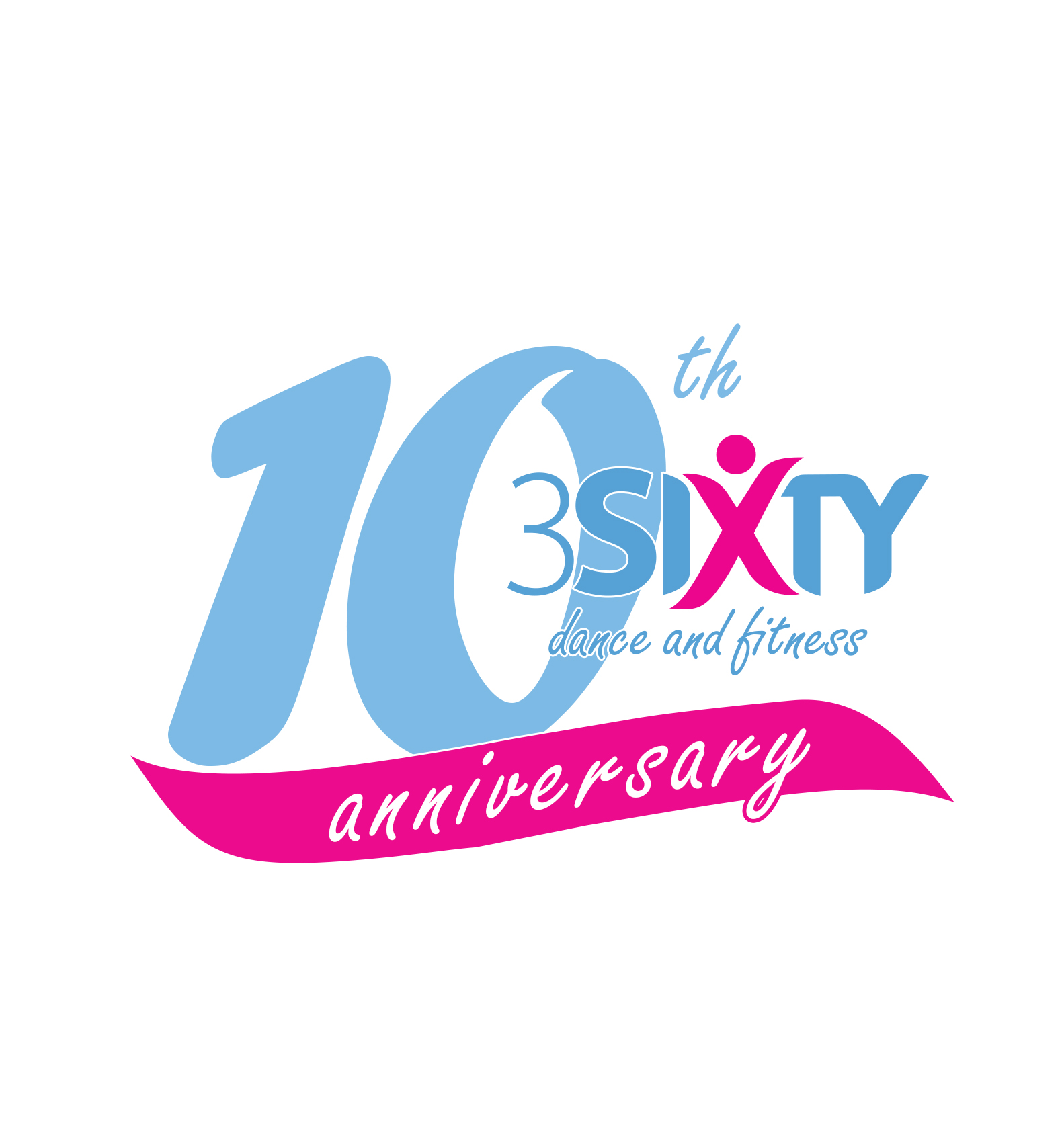 Welcome to the Golden Age of Aerials! 3Sixty Dance and Fitness is bringing the Glitter, Glam and Glitz of Hollywood to life in their 10th Anniversary extravaganza. Join us for a night among our Star Performers as they dance through the air. Watch our performers dazzle with aerial performances on pole, aerial hoop and silks. Lights. Cameras. Action!
3Sixty's 10th Anniversary Showcase: Golden Glitz
June 7, 2019
SCHEDULE
7:00 PM: Doors Open
7:30 PM: Showtime
General admission seating, Swag Lottery from our generous sponsors, and celebratory After Party!
FOR MORE INFO, PLEASE VISIT:
https://3sixtydanceandfitness.com/showcase
https://meridiancentrepointe.com/en/events_tickets/june2019/golden_glitz/index.htm
Pole Profiles
Greta Pontarelli is 68 year old pole artist. She has won 8 World Pole Art and Pole Sport Masters Championships, all while in her sixties, despite being challenged with severe Hip Osteoarthritis. Her latest win was this February in Florence where she captured championship just months after a dual hip replacement.
Greta was born with a slight internal rotation of the hips, which, along with years of gymnastics, before they required spring floors, destroyed her cartilage. She fought surgery for years and sought alternative treatments which bought her time, but ultimately she had to move forward with total replacements for both hips.
As Greta prepared for her surgeries, she started working on her piece "Finding the Blessings in the Ashes." It was based on the archetype of transformation that occurs in a forest fire which is needed for many sprouts to germinate and grow. This archetype relates to our lives and empowers us to use challenges as a thrusting block for growth. When Greta finished training on the pole, she frequently went into the forest to connect with the spirit of the trees so she could authentically tell its story. She watched the flames of the fire and spent time attuning herself to it. When Greta looked at the video of the fire choreography, she saw the fire but wasn't feeling hot so back to the fire she went to fully capture its essence. She continued to visualize the choreography while in bed recovering from multiple surgeries. It was when she pushed through moments of pain that the transforming effect of fire came to life. Greta learned that challenges can be an unexpected gift.
So often we stop short of the finish line or give up when success is just around the corner. Many times we don't begin because we believe what we want to achieve is not even possible. It is still a bit surreal to Greta that she has won 8 World Championships, because she almost gave up after her first class. She was somewhat discouraged because she couldn't begin to get up the pole. It was after competing in America Ninja Warrior and learning she was the oldest person to ever attempt the course that her mission was set in motion. Greta thought "where is everyone else?" and was motivated to push through her self-imposed boundaries to give visibility to her message. Soon the stage became her platform and inspiring the lives of others became far more important than the medals.